Early this morning there was a eight alarm fire at 327 Summer Street, an empty building located at the edge of Fort Point. Thanks to the brave men and women of the Boston Fire Department there were no injuries.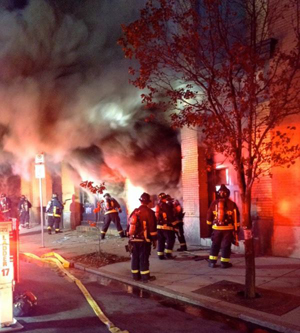 Many people have asked how they can help, especially since today is Giving Tuesday. The FPNA joins the Friends of Fort Point Channel in encouraging people to donate to the Boston Sparks Association.
The Boston Sparks Association has owned and operated the Boston Fire Museum, located in Fort Point, since 1983. The goal of the Museum is to preserve and display fire fighting memorabilia from the Greater Boston area, educate and inform the general public on fire safety, and to support the fire service in general.