Fort Point Neighborhood Association celebrates 10th Annual Boston Shines 

Mayor Marty Walsh's Boston Shines event is a neighborh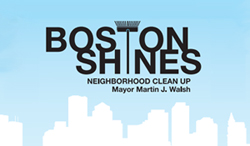 ood clean-up to celebrate spring and Boston's neighborhoods.  Please join the Fort Point Neighborhood Association in this neighborhood event to make Fort Point Shine!
Friday, May 9th, 2014 11 a.m. – 2 p.m. Lunch included
Saturday, May 17th 10 a.m. – 3 p.m.
After Party in Wormwood Park starting at 5 pm.
Tree Angels $500+
- Below benefits plus special acknowledgement on plaque and FPNA website
Tree Circle $300
- Tree circle on A Street adopted by your company
- Adopted tree circle will have a plaque with your business name
- Provides flowers and mulch for the base of your tree
- Provides an opportunity for your company employees to plant flowers around the base of the tree during Boston Shines event
- Boston Shines t-shirt for company employees who participate in Boston Shines
- Complimentary snacks provided by local restaurants during Boston Shines Event
- Recognition on the FPNA website, social media and promotional materials
- Membership in the Fort Point Neighborhood Association
A Street Panel $150 Each (multiple panels available)
- Provides flowers, vines and mulch
- Boston Shines t-shirt for company employees who participate in Boston Shines
- Complimentary snacks provided by local restaurants during Boston Shines Event
- Recognition on the FPNA website, social media and promotional material
- Membership in the Fort Point Neighborhood Association
Special Thanks to Our 2013 Sponsors
ADD Inc
A Street Frames
Barlow's
Bee's Knees
Blue Dragon
Elkus Manfredi
Empire
Hint Water
Lincoln Tavern
Lucky's Lounge
Metro Cafe
Rue La La
Sagarino's
Social Wines
Southie Liquors
Tavern Road
US Post Office
Contact
Cam Sawzin cam.zin at verizon.net
Charles Joesph charlesjos at aol.com
Boston Shines Coordinators