The A Street park spans 1.6 acres in the Fort Point neighborhood of  South Boston and is bordered by Richards St, Medallion Ave and W 1st St.  The park features a dog park, a tot playground, 8 community gardens, water fountains, a half court basketball court and a flexible field that can accommodate youth soccer.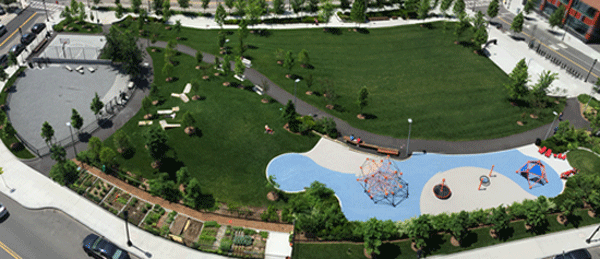 The park opened in the summer of 2014 as part of designated green space defined within the 100 Acres Master plan for Fort Point and as a permanent public benefit in exchange for development rights by developer, Commonwealth Ventures, along with USPS, P & G Gillette, Synergy and Gerding Edlen. The private group is responsible for maintenance and capital repair of the park. On May 23, 2017, Mayor Walsh hosted a Coffee Hour at the A Street Park to celebrate the park's acceptance as a City Park. A Street Park became Fort Point's first City Park  
Park programming and online permitting is managed by  the Boston Parks & Recreation Department.
Community Gardens
Eight community gardens face the Medallion side of the park. In July 2014, a lottery for the gardens occurred and eight names were picked for the plots and eight names picked for the waiting list. When a gardener gives up a plot, the next name on the waiting list receives the plot.  The garden plots are held for three year terms to allow a greater number of gardeners to participate.  When a waiting list gardener receives a plot, a new three year term begins, avoiding complete turnover every three years. All seed, plants, tools and hoses are responsibility of the gardeners. Community gardens are gardener managed. Kristin Fumerola is the garden group coordinator. On the waiting list are: #5 S. Nichols, #6 M. Wannasaveang, #7 B. Ward, and #8 J. DeCosta. Note: The first  gardener on the waiting list received a garden in 2015, the second and third received gardens in 2016 and the fourth in 2017.