The Fort Point Arts Community (FPAC) invites all Fort Point neighbors to a reception to meet the Directors of Midway Artist Collective, Inc., the new non-profit organization created to acquire and operate Midway Studios in order to keep Midway an affordable asset for artists in Fort Point in perpetuity. Midway Artist Collective will make a brief presentation regarding the opportunity for individuals to invest in Midway's future.
Sunday, January 26, 2014
5:00–7:00pm
Made in Fort Point
30 Channel Center St. Boston, MA 02210
Midway Artist Collective, Inc. is proud to make this investment opportunity available to the Fort Point community, by offering an attractive return for a very important cause. Visit Midway Fund for details on the Confidential Offering.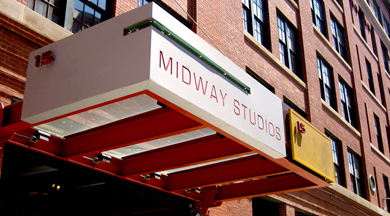 We hope you'll join us to learn more about the future of Midway Artist Studios: a building crucial to the dynamism of Fort Point's arts landscape, designed to be available and affordable for generations to come!