Drawn to Water opens this Thursday, January 23, 2014 from 5:00pm – 8:30pm at the Atlantic Wharf Gallery. The Atlantic Wharf Gallery is located at 290 Congress Street Boston, MA 02210.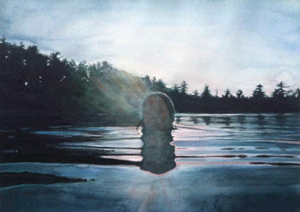 The show features art by Martin Berinstein, Brian Bresnahan, Laura Davidson, Michael Eder, Chris Faust, Jacob Higginbottom, Linda Huey, Jenifer Mumford, Shaari Neretin, Bryan Ramey, Nora Charney Rosenbaum, Jose L. Santos, Matthew Shanley, Stephen Sheffield, Sylvia Stagg-Giuliano, Nick Thorkelson, Dorothea Van Camp, Sara Whitman, Tom Wojciechowski and Yu-Wen Wu.
Drawn to Water is curated by Elizabeth Devlin of FLUX.Boston and runs through March 28, 2014. Read more.